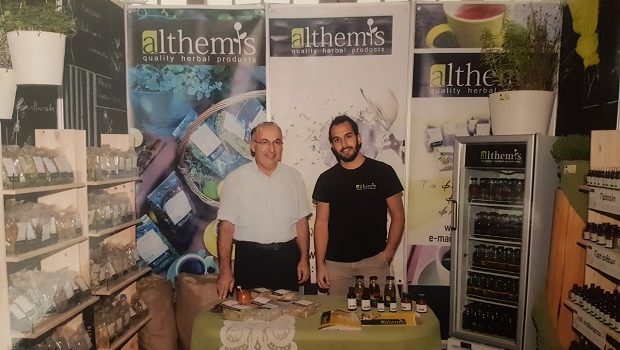 Althemis, the beginning
Althemis is active in the production, processing and sale of high quality natural products. It was founded by Agathopoulos Themis and his father, Agathopoulos Dimitris. The many years of experience of an alternative chemist in the field of natural products coupled with the appetite and ideas of his son set the bar high. It began to operate in the herbal sector with its main customers pharmacies and delicatessen shops with natural products focusing on Greek herbs as well as processing of Propolis, Gris and Spathe oil.
The successful course of althemis in these demanding market sectors has given the green light to expand in the catering sector such as hotels and coffee bars. With three unique flavors Cold Tea with honey and lemon without preservatives as well as eight flavors of herbs for hot beverages that stand out.
The philosophy of Althemis
The philosophy of althemis on its products is very specific, from preparation to advertising. Our goal is for the final consumer to get excellent quality products without paying anything beyond the product. In all her advertisements althemis finds people who love the item and are willing to take pictures and participate in all of this! Besides, when you do something because you love it the result is more real and unique. Final result? There is no added value in a product to cover models. People who have been interested in althemis products and have taken part in photography are the ones who try the products until they come into the market with the most suitable form and composition for you!
People were asking for new products from us.
Althemis started to operate in the production and processing of medicinal herbs. Agathopoulos Dimitriou's many years of experience as a pharmacist, combined with the appetite of his son Themis for new products, made the world ask them to have a need even if they were not ready. Based on the quality of herbs and honesty about the products, people wanted something more than althemis. So after testing to friends and family one more products are growing and althemis is now active in the areas of:
Αρωματικά φυτά

Φυσικά καλλυντικά για άνδρες & γυναίκες

Εμφιάλωση κρύου τσάϊ χωρίς συντηρητικά

Φυσικά σκευάσματα όπως η πρόπολη και το σπαθόλαδο.
Product categories
Integrate their consumption into your everyday life and the results will surprise even the most demanding.